When we first heard Pizza Punks were coming to Belfast, we got super excited.  Like, not "oh sweet, a new pizza place" excited – dancing-around-the-living-room excited.  Disrupting the Glasgow pizza scene since 2016, a pizza place where you can have unlimited toppings for a set fee (including a load of quirky options), a good selection of craft beers, wine on tap and crazy cocktail concoctions, set in an industrial-chic, punked up venue with awesome wall art and neon bling.
We love pizza, we love craft beer and we grew up listening to punk rock, so on paper, Pizza Punks is right up our street.  Did it live up to our high expectations?
Duh.  Pizza Punks has gone straight in as our favourite pizza place in Belfast.  We've actually been in twice in the last week or so.  We rocked up last Friday night around 7pm and there were no tables available until 9.30pm.  No problem, situated right in the heart of Belfast's bustling Cathedral Quarter, there's no shortage of bars around to pass the time while you wait.  We'd recommend booking in advance if you're in a hurry – on both visits, the place was packed.
We booked for our second visit – arriving slightly early and with an extra person in tow – and were warmly welcomed and didn't have to wait more than a couple of minutes to be seated.  First impressions are everything when you visit a new restaurant or bar – and the reception we met on both visits was incredibly warm, friendly and welcoming.  A really chilled out but accommodating vibe which hits that sweet spot of feeling like you're being looked after but not fussed over.  They've chosen their front of house staff very well.
The venue itself is stunning.  Kitted out with steam-punk style decor, Pizza Punks' signature neon signage and some amazing wall art which has been given a Belfast twist ("pizza and craic!") It screams "Instagram me".  So we did.  And you will too.
Pizza Punks feels like a high-end, dive bar (if such a thing were to exist?), just the right amount of dark and edgy with a rockin' soundtrack of Green Day, The Specials, The Clash and Royal Blood (to name a few).  It's the perfect spot to grab some food and pre-drinks before a night out in the Cathedral Quarter.
What's the pizza like in Pizza Punks though?  It's great.  It has that classic, crisp base you only get from a woodfired oven.  They're roughly 12″ but on both visits, ours were probably a little bigger than that.  They're not super thin either which means they're incredibly filling and at £10 per pizza, great value.  You could easily share a pizza and a couple of sides with a friend.
We opted for the sourdough base, mozzarella and the classic 'red' sauce.  You can have as many toppings as you want from the menu.  Some of the quirkier toppings available include mac'n'cheese, candied bacon, black pudding, lamb donner, potato and irn-bru pulled pork!
On both visits, we pretty much just went down the list of available toppings and asked for everything we liked.  We were quite lucky in that our selections worked well for the most part – but some combinations are going to work better than others.
(Pro Tip: Sometimes less is more – just because you can, doesn't mean you should)
On our first visit, we also ordered a side of the Buffalo Chicken Wings.  We'd been spoilt in Belfast in recent years in terms of chicken wings thanks to the Hudson Bar (RIP).  For those of us still trying to find wings to rival The Hudson's, flavour-wise, Pizza Punks' wings are right up there, but the portion size needs to double for us to truly recommend them.  They tasted bangin', we just wanted more.
On to the drinks! There's a wide selection of cocktails and wine on tap but we're beer drinkers, so let's focus on the craft beer selection.  We opted for two Island Records beers on the first visit – their Session IPA and the Jamaica Porter.  A session IPA is a great choice to match with pizza – and we had Yeastie Boys' Bigmouth Session IPA on our second visit.  The Porter is great too but we'd recommend that one as a dessert beer as it's a dark, coconuty affair.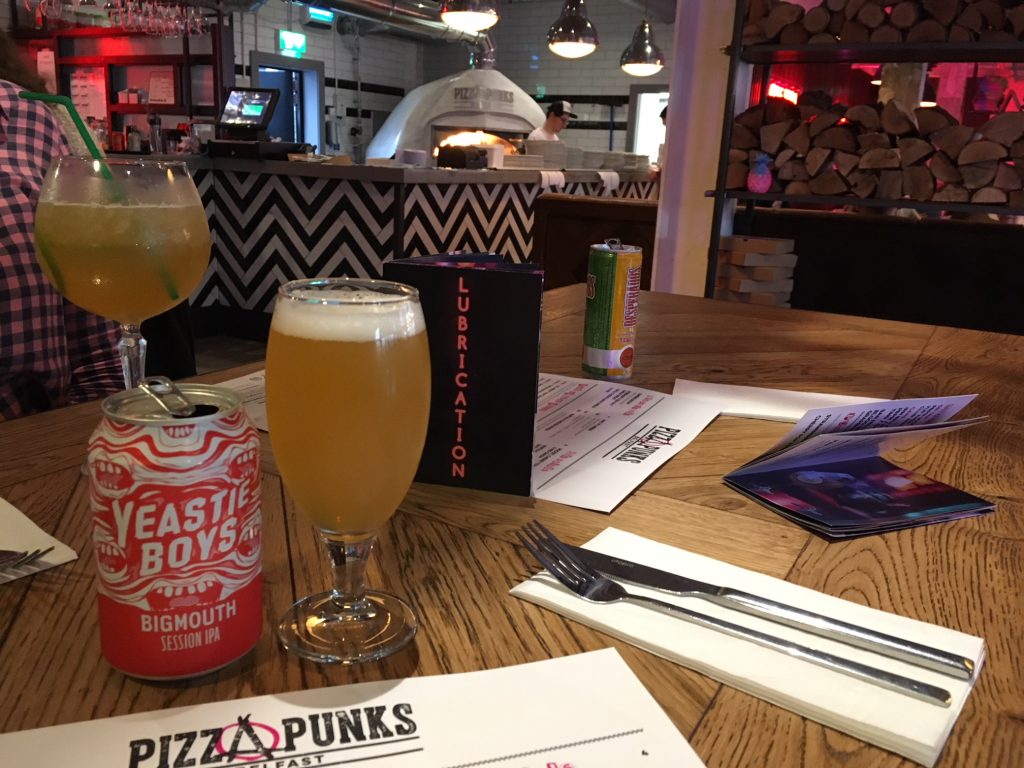 The craft beer selection also includes Yeastie Boys' Digital IPA, three beers from Franciscan Well's core range, two beers from Edinburgh's Bellfield Brewery and Brooklyn Lager.  There are a few other non-craft lager options too but go for one of the ones listed here and you'll not go far wrong.
Overall, we love Pizza Punks.  The atmosphere, the service, the food, the drinks… they've nailed it.  So if someone asks you if you'd like to go to Pizza Punks, the answer is, obviously… "Hey ho, let's go!"
You can book a table online – and don't forget to follow Pizza Punks on Instagram and Facebook.
Rating: