We're just back from a fun, beer and gin-fuelled weekend in London.  As part of the trip, we spent an afternoon checking out the bustling west end streets of Soho and its eclectic mix of places to eat and drink.  Our recommendations are listed below so if you intend to spend some time in Soho soon, we've got you covered!
This post is a collaboration; the spending money was gifted by Hotels.com, but all views are our own.  There's no shortage of hotels in Soho, and it's the perfect area to base your stay in London as it's in the City of Westminster, very central, and has been one of the main entertainment districts in the capital since the 19th century.
Craft Beer in Soho
There are loads of traditional London boozers in Soho but if you're looking for craft beer, there are two places that stand out head and shoulders above the rest.  If you're a discerning beer geek and you're in Soho, here's where you need to go.
BrewDog Soho (21 Poland St, Soho, London W1F 8QG)
This was our first stop in Soho.  BrewDog is a safe bet wherever you are – if there's a BrewDog bar and you're a craft beer fan, you know you'll be well looked after here.  We spent a couple of hours here, trying a range of beers and their sharing super stack which was perfect soakage for the rest of the day.
The bar itself is also super cool; stripped back, minimalist industrial chic with the trademark BrewDog neon signage and artwork adorning the walls both upstairs and in the basement.
The staff were great, really attentive, friendly table service, good banter and some unprompted beer samples – made us feel incredibly welcome and looked after.  And they had no idea we'd be writing about it, so it wasn't special treatment, just good service.
The Lyric (37 Great Windmill St, Soho, London W1D 7LT)
The Lyric caught us a little off-guard.  When you first step inside, it feels like a standard, traditional pub.  In stark contrast to BrewDog's hipster vibes, the Lyric feels totally different.  There's football on the telly, families in having Sunday dinners and a real eclectic mix of punters.
The taps at the front of the bar are all cask but there's a craft beer list on the wall and craft taps behind the bar.  If you didn't know this place was a great craft beer spot, you might not even notice when you walk in and you'd miss out on some great stuff.
We'd recommend this place if you're with a mixed group – maybe some want to watch football, some want great pub grub, some want cask beer and you want great craft beer.  There's something for everyone in this unassuming spot in the heart of Soho.
Quirky Bars in Soho
Soho's known for its nightlife; there's a wide range of bars in the area but these two stood out to us as must-visit spots if you're looking for something a little different…
Cahoots (13 Kingly Court, Carnaby, London W1B 5PW)
Cahoots is a 1940's themed bar set in a disused underground station, keeping the blitz spirit alive with spiffing cocktails, black market liquor and post-war rationed snacks.  It's a place full of high spirits, scoundrels and swing.
It's the perfect place to go if you'd like to be transported back in time to a bygone era – with live entertainment including swing dancing and singalongs around the piano.  Ideal for lovers of all things vintage, kitsch, quirky and retro.
Graphic (4 Golden Square, Soho, London W1F 9HT)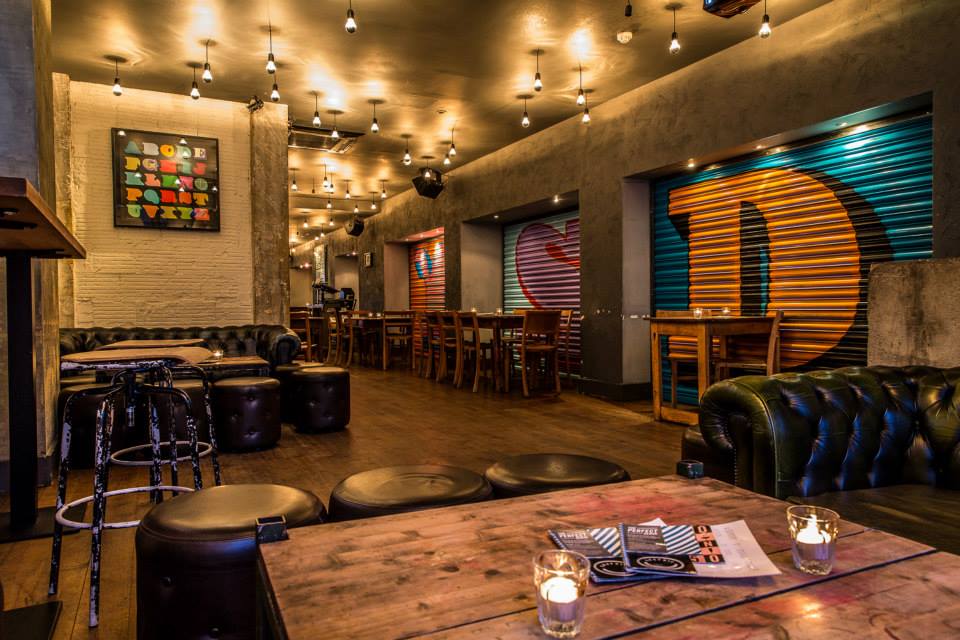 Graphic is a fresh and stylish bar where you'll be surrounded by ground-breaking urban art with installations by innovative artists including Ben Allen, Jim Sharp, Ben Eine and Turner Prize winner, Mark Wallinger.
Even better, they've got one of the largest selections of gin in the UK – with 305 different gins on their shelves at last count.  If gin's not your thing, they've also got an extensive cocktail list and a decent beer selection, too.
We've only just scratched the surface in Soho with these four bars, but for an afternoon, you could do worse than work your way around the above.
What's your favourite spot in Soho? Let us know in the comments below.